This is part of a series of articles about using instruments from Logic inside Ableton Live. These articles assume you own a Mac with Logic and Ableton Live, and that you have already setup the MIDI connection between Live and Logic by following the instructions in the previous article, "Live + Logic #2: MIDI Routing".
Initial Setup
First you need to download and install Soundflower.
Once Soundflower is installed, you need to run the Soundflowerbed application (under /Applications/Soundflower by default) . If you plan on using Soundflower a lot, it's convenient to make Soundflowerbed run automatically by adding it to your list of Login Items in the Accounts section of System Preferences.

When soundflower is running, you should see its icon

toward the right side of the menu bar. You can click on this to change buffer size settings and monitor the output of Soundflower's routing channel. We generally want to leave the output set to None (OFF) because we'll be monitoring audio through Live, but these output settings might be useful for debugging if you can't hear anything. Note that Soundflower can support either 2 channels or 16 channels. We'll be using the 16 channel mode because we are working with multitrack sessions.
Finally, open the template projects for MIDI routing that we created in the second article in this series.
Sending Audio out of Logic . . .
Open Logic's Preferences ⇒ Audio and set the device to Soundflower (16ch)
Set the output of Track 1 to be Output 1-2. And Track 2 ⇒ Output 3-4, Track 3 ⇒ Output 4-5, etc (we use 2 outputs per track because we're working with stereo)
Add an instrument, like EFM1 or Sculpture, and any desired effects to a track.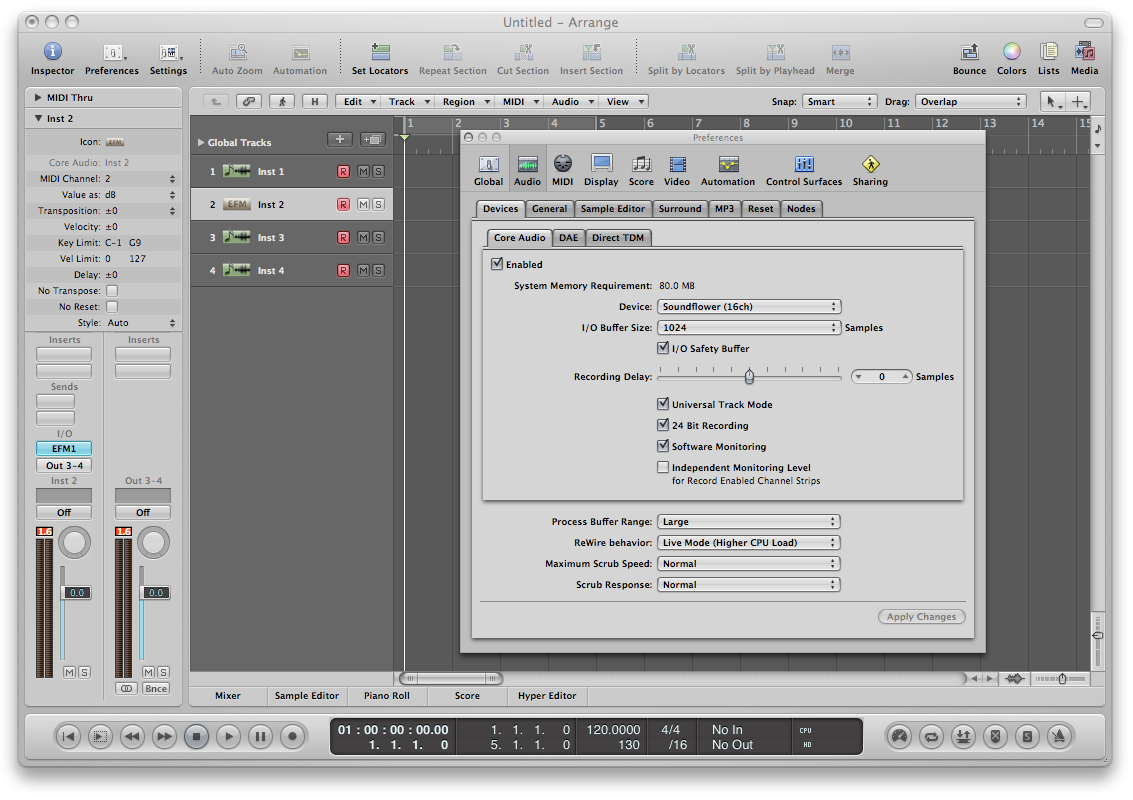 . . . And Receiving Audio in Live
Open Live's Preferences ⇒ Audio and set the Audio Input Device to Soundflower (16ch)
Set the Audio Output Device to whatever you want to use to monitor the audio
Just below the Audio Input/Output Device settings, click the Input Config button
Enable the inputs 1/2 (stereo), 3/4 (stereo), 5/6 (setero), and 7/8 (stereo). You can enable the rest if you want to use them all. If you aren't going to use them all, it may save some system resources to only enable what you need.
In the External Instrument on Track 1, set the Audio From to 1/2. Similarly, in track 2 ⇒ 3/4, track 3 ⇒ 5/6, etc.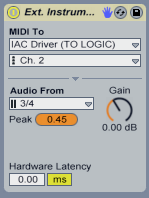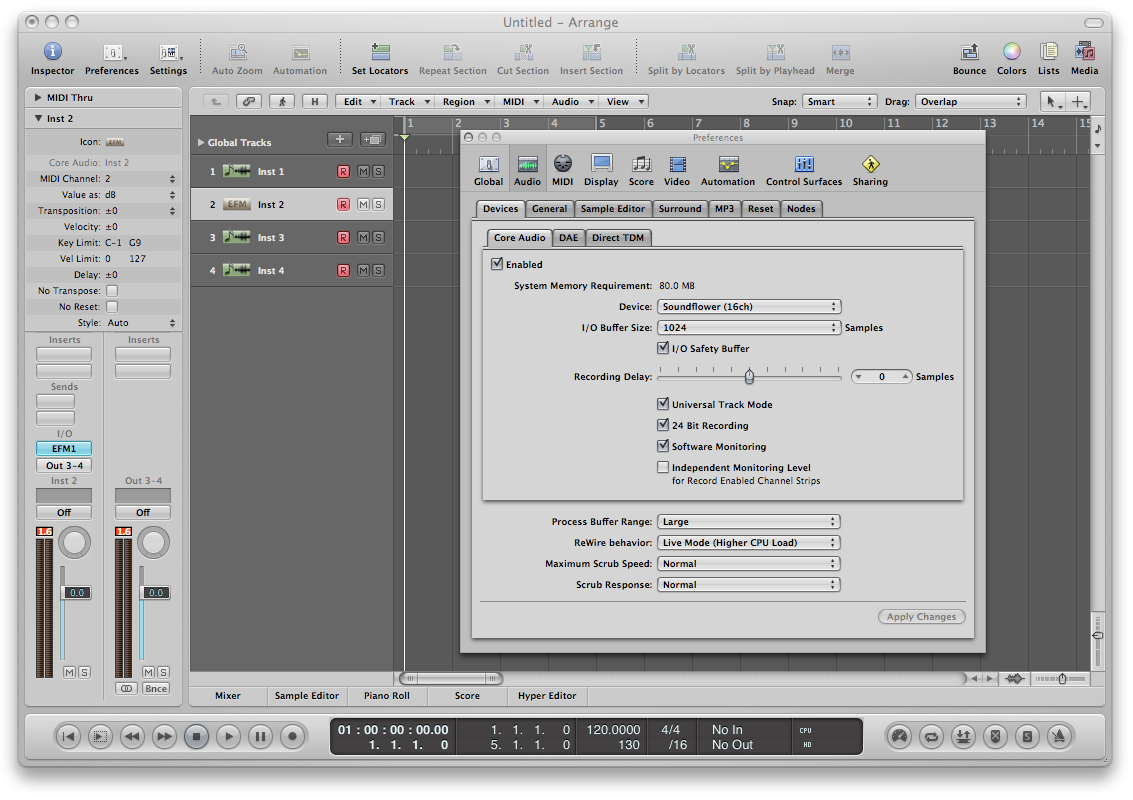 Now all the outputs from Logic are connected to the inputs in Live. You should be able to play MIDI through Live and receive the Logic instruments' audio inside of Live. If you can only hear audio on track 1, it's probably because you missed steps 3 & 4 of 'Receiving Audio in Live'. This part of the setup is not obvious and very easy to miss. If you ever reset your Live preferences, you will need to remember to repeat these steps again the next time you try to use Live with Logic via Soundflower.
Conclusions
You can add Soundflowerbed to Login Items to have it run all the time and never worry about starting it yourself.
Once the audio device is set to Soundflower (16ch) in Live/Logic, routing multitrack audio between the two program is straightforward.
Alternatives
You can try routing audio with wormhole instead of soundflower.


Adam Murray, 2009
contact the author...